Songs of artist: Elvis Costello
Songs Chords Lyrics of artist: Elvis Costello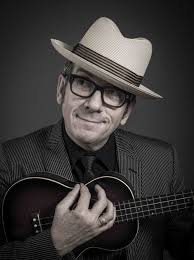 Elvis Costello (tên thật là Declan Patrick MacManus, sinh ngày 25 tháng 8 năm 1954) là một ca sĩ - nhạc sĩ người Anh.
Anh bắt đầu sự nghiệp với việc chơi nhạc pub rock ở London vào đầu những năm 70, sau đó gắn liền với phong trào Punk/New Waveở Anh nửa sau thập niên này. Album đầu tay của anh, My Aim Is True (1976), đã ngay lập tức có được nhiều phản hồi tích cực. Ngay sau đó, Costello thành lập nên ban nhạc The Attractions. Họ đã đi tour và thu âm nhiều album cùng nhau trong suốt 10 năm, cho tới khi những bất đồng giữa anh với các thành viên dẫn tới việc ban nhạc tan rã vào năm 1986. Sự nghiệp của Costello từ đó trở nên nổi bật hơn trong vai trò solo, cho dù sau đó The Attractions cũng có vài lần tái hợp ngắn gián đoạn trong nhiều năm.
Chú trọng vào phần lời, ca từ trong các ca khúc của Costello bao hàm rất nhiều chủ đề hơn bất cứ những ca khúc phổ thông nào khác. Âm nhạc của anh cũng bao gồm nhiều thể loại, thậm chí có đánh giá đã coi anh như "một cuốn bách khoa nhạc pop" có thể "khơi gợi lại quá khứ bằng cách của mình".
Costello đã từng giành vô số giải thưởng suốt sự nghiệp của mình, trong đó có Giải Grammy, và 2 lần được đề cử Brit Award cho nghệ sĩ nam xuất sắc nhất. Năm 2003, Elvis Costello cùng The Attractions được vinh danh tại Đại sảnh Danh vọng Rock and Roll. Năm 2004, tạp chí Rolling Stone xếp anh ở vị trí số 80 trong danh sách "100 nghệ sĩ vĩ đại nhất"
Theo wikipedia.org
Home page: http://www.elviscostello.com/
twitter: https://twitter.com/elviscostello